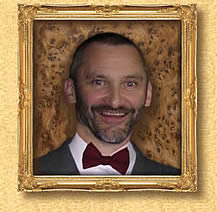 First a few words from Christine, the President's wife describing the philosophy behind her choice of pictures;
"I am honoured to be asked to make the selection this year. Although not a marquetarian, I have been involved with the Staffordshire Marquetry Group and work with Quentin in his business, QJS Marquetry. I have represented the Group, the Society and QJS Marquetry at many craft fairs and exhibitions and I have attended every National Exhibition since 1988. I hope you enjoy my choice"
Words & Choice made by Christine Smith,
Wife of Quentin Smith,
President
(at date of Exhibition).